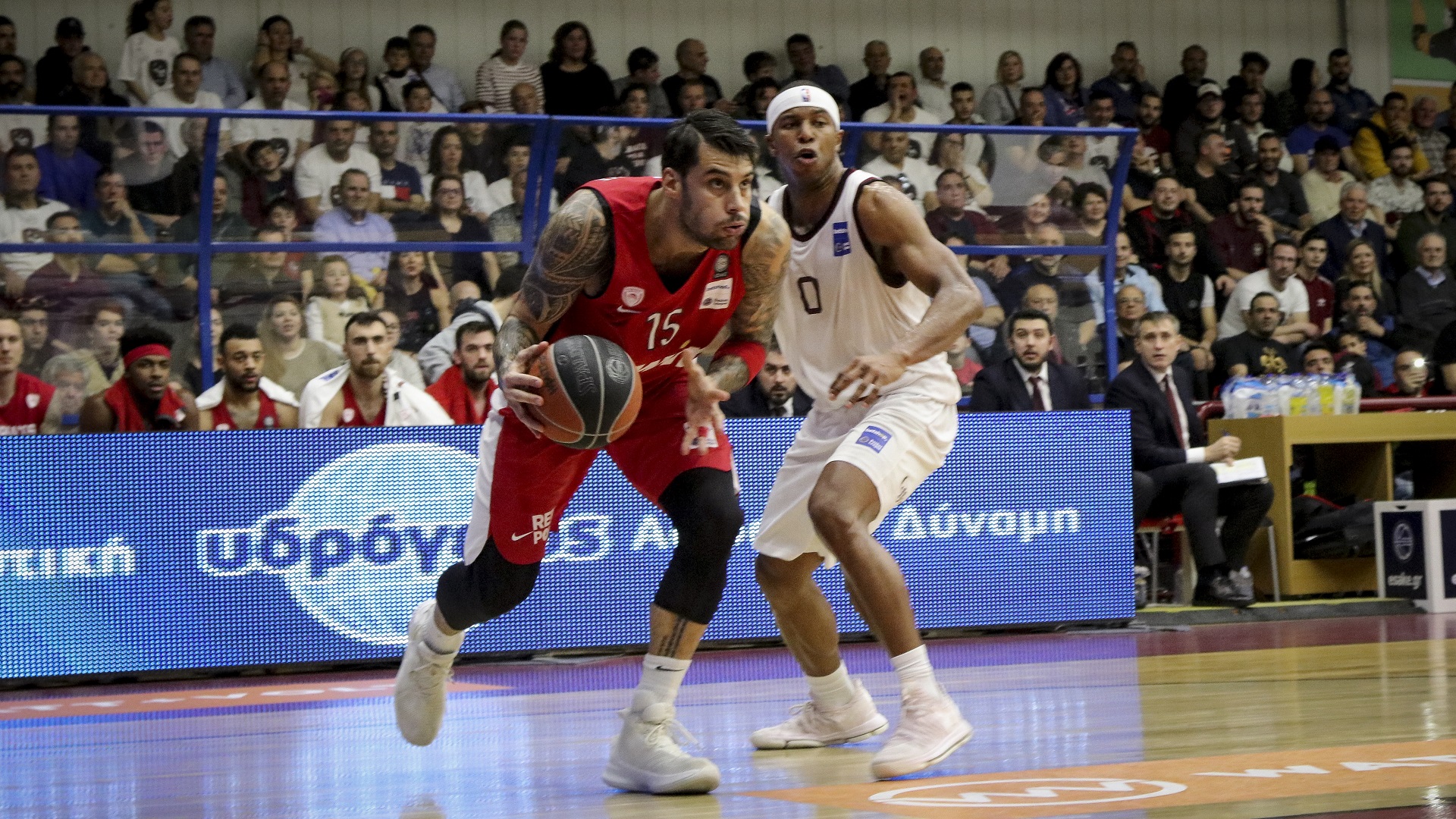 Α Pyrrhic victory at Limnos
Olympiacos got a comfortable win against Ifaistos Limnos with a 73-53 score, for the 16th day of the Betshop Basket League, however, during the game, had to witness Nikola Milutinov (at 5') and Giorgos Printezis (at 23') being injured.
The Serbian center - who hurt his leg - will undergo an MRI tonight, to assess the extent of the damage inflicted. It's worth noting that Kostas Papanikolaou did not travel to Limnos due a knee hematoma.
Nigel Williams-Goss and Zack LeDay started the game on a roll and had a major impact as to our team building a +10 difference (8-18, at 8'). Ifaistos reacted and taking advantage of the gaps in the 'reds' defense closed in to one bucket (22-24) at 12'. Nevertheless, the answer by Blatt's players was immediate. They put pressure when defending, moved the ball efficiently in the offense and through good co-operations shaped a 32-41 score, which marked the end of the first half.
In the second half, and despite the second blow the front line took, as well as the poor perimeter percentages, Olympiacos consistently maintained control thanks to good defense (40-49). With Zack LeDay, who seemed to have no resistance in the post, the reds sent the difference to +23 (43-66, at 32'). Olympiacos lost touch with scoring for about 4':30'' but did not pay for it… Thanks to good defense, they did not allow the hosts to drop the difference below 14 points (52-66), while when Zack LeDay and Janis Timma took over, the final difference climbed at +20 (53-73).

The quarters: 16-22, 32-41, 43-59, 53-73.
Ifaistos (Μanolopoulos): Diamantakos 7(1), Gotcher 5(1), Wiggins 1, Smith 13, Freimanis 2, Manolopoulos, Μourtos 1, Stamatis 3(1), Charitopoulos 7(1), Gontikas 14, Bakeas, Garezos.
Οlympiacos (Blatt): Μilutinov , Mantzaris, Williams-Goss 11(6 as., 2 st.), Τoupane 2, LeDay 19 (8 reb.), Printezis 15, Vezenkov, Αgravanis 2, Spanoulis 6 (5 as., 3st.), Bogris 4, Strelnieks 3(1), Τimma 11(2)
"My players did a good job"
David Blatt commented as follows: "It was important that we reacted after a tough game. I think my players did a great job and coped excellent with the difficulties of the game. Limnos, except for the games against Panathinaikos and Olympiacos, has not lost a home game. It's a tough place to play. We played a good hard game the right way, especially since we were missing three star players. We lost Milutinov at the beginning. Printezis played a very good first part, however, he wasn't able to play the second half and Papanikolaou did not even travel here. That's not easy. The good thing is that the players that were here came forward and did a very good job. I would like to sincerely congratulate the people of the island, of the team, of the organization for all they do for Greek basketball. They have created a great environment and this is very positive to see for everyone involved with the sport. It's very good for the Greek League. I'm not saying that to be nice. It's the truth".
Asked whether it was a success for the hosts that the 'reds' only scored 73 points, he replied: "Ifaistos played well, however, we missed a lot of open shots, lay ups and threes. We played well in the offense, but if the shots had gone in, the difference might be larger. I would be feeling differently had we made turnovers, but I simply feel that we missed open shots".
Finally, about the injured players, he said: "I spoke a little bit with Milutinov after the game and he told me he's feeling well. We'll see tomorrow. The same goes for Printezis and Papanikolaou".