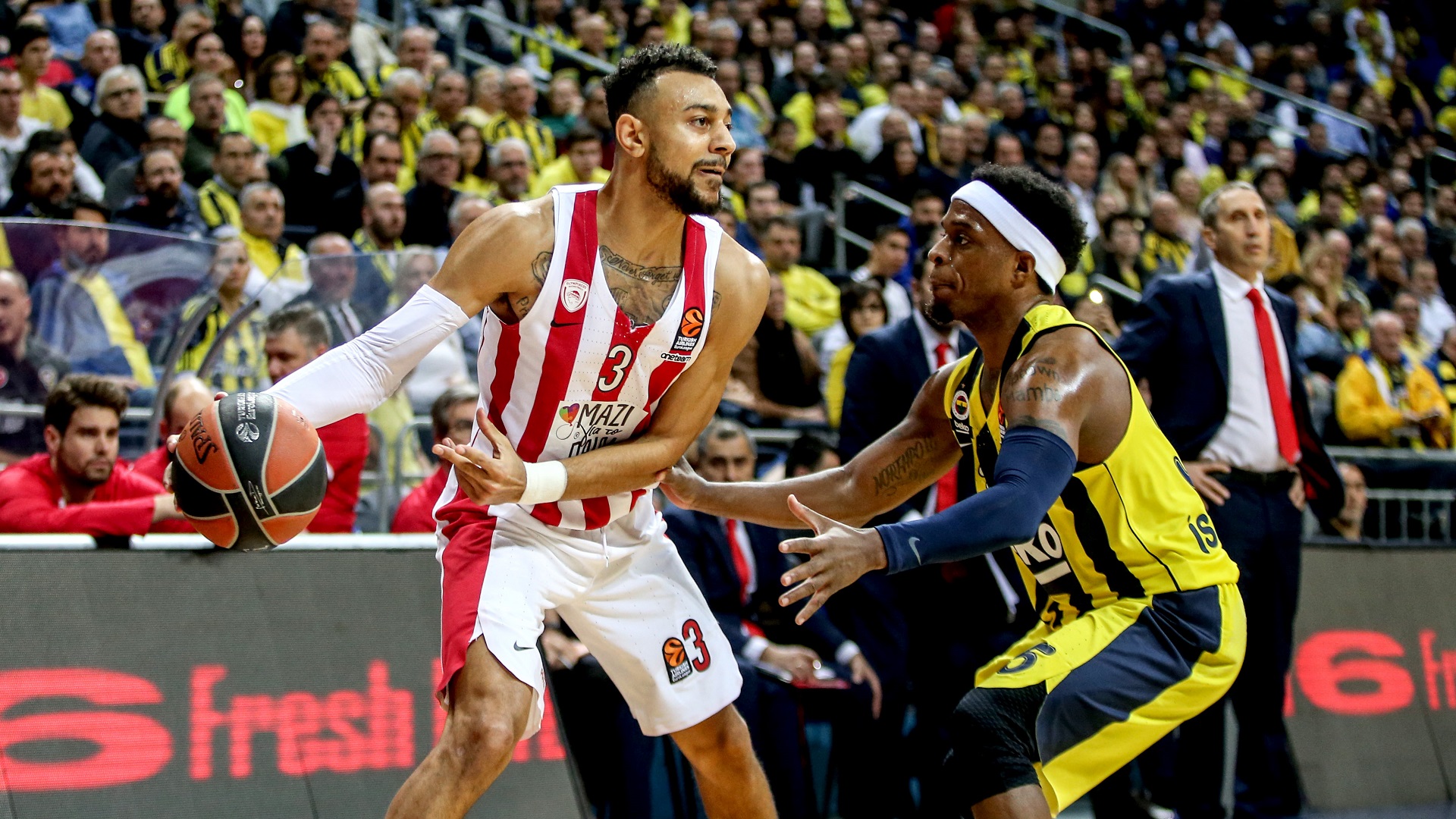 Defeated in Istanbul
Olympiacos did not make it in Istanbul. The 'reds' lost to top seeded Fenerbahce 75-90 for the 20th round of the Euroleague.
Kostas Papanikolaou made a 'hot' start in the game (2/2 threes which allowed our team to lead 6-4 at 2'). However, his team mates were unable to follow through. Poor choices when attacking, turnovers and defensive gaps allowed the Turkish team to lead by 9 in just two minutes (15-6) following an 11-0 run. The 'reds' improved their defensive game and mainly relying on their good perimeter percentages (Janis Timma had two back 2 back threes in the beginning of the 2nd quarter), succeeded in balancing the game (23-23, at 14'). Fenerbahce though was shooting with excellent percentages (6/6 free throws, 14/20 twos and 2/4 threes) and with Muhammed leading the offense, succeeded to set the rhythm (13p., 40-27) and close the first half leading 40-28).
In the second half, the hosts 'struck' inside the post and made the margin even wider (21p., 60-39 at 27'). Olympiacos (who attempted a total of more threes than twos (11/22 twos and 12/29 threes), tried to come back into the game relying on three pointers (68-54 at 30'). With a good defensive game and led by Janis Timma, the 'reds' tried to overturn the tables in the beginning of the fourth quarter and closed in at 9p. (72-63, at 33:20''). All the more, it was at that point, Zack LeDay got Jan Veselj's 5th foul, one of the key players for Fenerbahce. However, Zeljiko Obradovic had more aces up his sleeve. Kalinic and Green continued to "load up" the red basket and led their team safely to victory.
The quarters: 21-15, 40-28, 68-54, 90-75.
Fenerbahce (Οbradovic): Green 17 (4), Melli 6, Mahmutoglu, Kalinic 16 (2), Sloukas 12 (1), Guduric 5 (1), Veselj 7, Muhammed 13 (1), Duverioglu 8, Datome 4, Lauvergne 2.
Οlympiacos (Blatt): Williams-Goss 3, Τoupane 8 (2), Spanoulis 10 (2), Τimma 14 (4), Μilutinov 11, Strelnieks 13 (2), Vezenkov, Printezis, Papanikolaou 8 (2), Mantzaris, Bogris 2, LeDay 6.
"It was a bad day..."

"Congratulations to Fenerbahce. They played a very good game. Thanks to the schedule of the Turkish League and the All Star Game the week before, I think they had better options to prepare the game compared to us. They definitely had more time than we did. Maybe they came into the game physically better, as well as tactically and hence controlled it. A team like Fenerbahce, that good a team, that had a week to prepare, is really important. In the 30 games of the season, there are going to be some that simply won't go your way. This is one of the few games we did not play good. Now we are going back home and improve on what needs improving to move forward".
On the reasons he got a time out 45'' before the end, he said: "We weren't going to win the game, we did that for practice purposes. When you are trailing, you fight for every point. I don't think it was wrong, if that's what you're asking".
Asked on whether turnovers hurt Olympiacos, he replied: "Turnovers are a key factor in every game. We had more than those we forced the opponent to make and that's something we need to face and discuss when we get back to Greece. In general, we had a very poor day offense wise. We are a good defensive team, however, we weren't that also today. At the same time, Fenerbahce was shooting with excellent percentages. It's something that they generally do and they did it tonight as well. We had 50% in twos and 41,4% in threes. They are good numbers, however, when the opponent has 68.6% in twos and 56.3% in threes, you are not going to win the game, especially when you also have 16 turnovers. That's the story…"
Asked what it is Olympiacos has to do to come to the level of Fenebahce, Real Madrid and CSKA, he made it clear: "We were certainly very competitive in the first game against Fenerbahce. And if there hadn't been a disputed call, we would have won. But we didn't and tonight we lost to an outstanding team. We beat Real Madrid at home, we lost on the road and on the road game against CSKA we lost by approximately one bucket. So, in my mind, we can compete against any team and we will do so. I'm not thinking about the top three teams or anything like that. I think how we can win games and qualify for the playoffs in the best possible seeding. It is certain that Fenebahce is a very high level team and that is not the case only this season. But there are bad days for teams. Tonight we had a bad day and were playing against the wrong team. Now, about your question… Have you ever played cards? Yes? For money? No? It's OK… You know when you count your money at the end of the night? Downstairs… That is when you leave. When everything is done. Because it's not good to count them before that. What I want to say is that you asked about the three top teams and you have made your conclusions, but this cannot be done before the end. We want to become the best team we can and we play competitively against all teams. We have had good results against top teams, but also against low seeded teams. We have to continue working, getting better and count our money downstairs. Let me make something clear though, I don't play cards. It was a metaphor. I don't have time to play though, because what I'm thinking is that had we not had made 16 turnovers, we wouldn't have missed open shots… Anyway, there is no luck factor. I personally don't believe in luck".
Following a new question in terms of defense… "If you see our total defense stats, I think that before this game they were pretty good. So, like I said before, our defensive game was not good tonight against a high quality team with a lot of great players. But we obviously saw that and we will continue to watch quality players in the future. We need to accept the challenge, physically wise, and do a better job when defending. We need to play simple. Up to tonight and up to the game against Real we had been very good defense wise. Also, we need to stop playing against former Olympiacos players! It seems we get bitten in the back when they see us. It was great. The guy did not miss a shot and this was an important part of the game".
When told that the line up with the small forwards did well - he commented that this had been a good moment for the Olympiacos' game - but he did not get anything from his '4' guys, he pointed out: "Both things count… These guys came in and did a great job despite they hadn't had the chance to play a lot. Our '4' players did not do a good job, that's a fact too, we cannot ignore that".