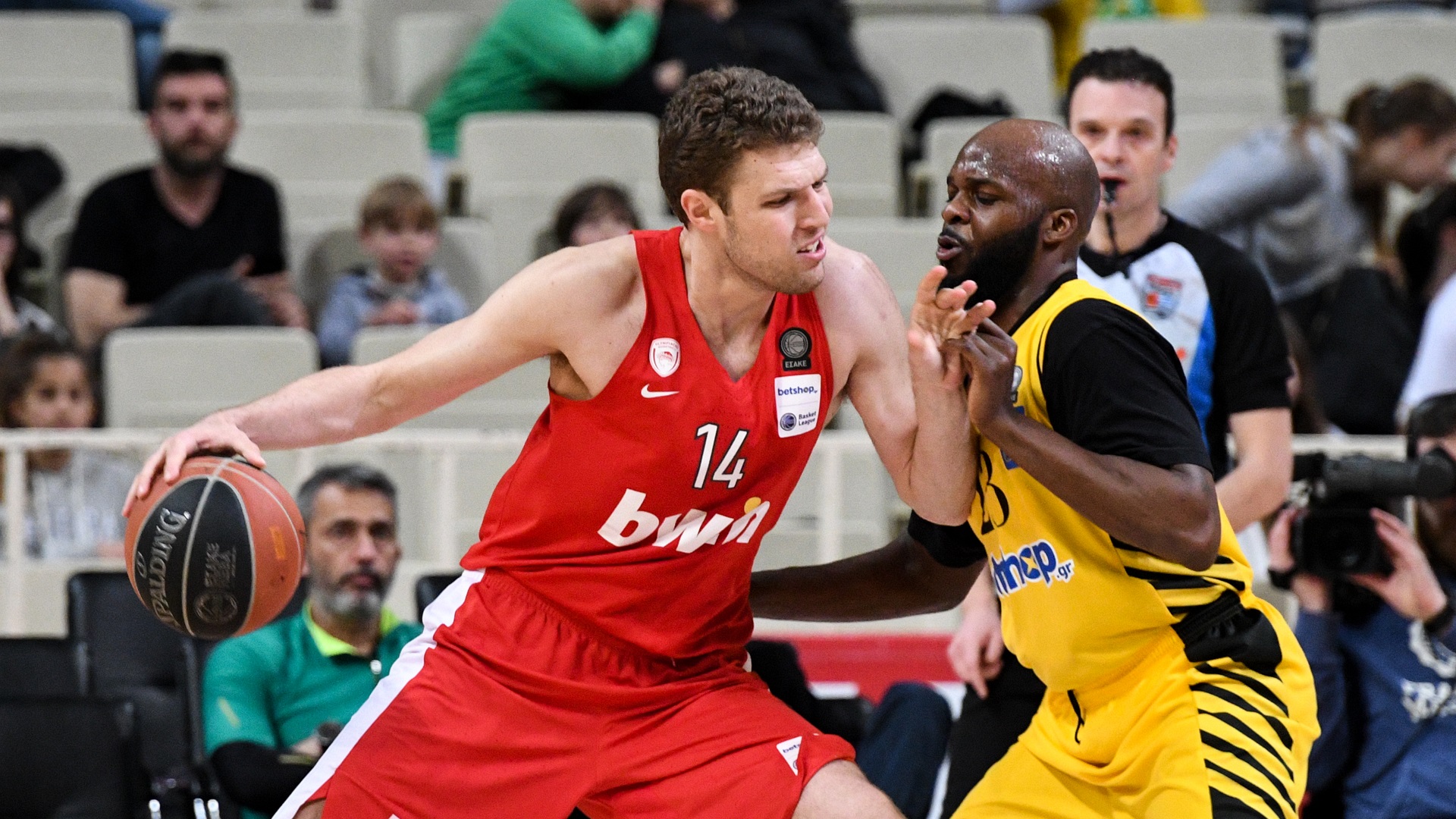 Olympiacos beats AEK on the road on Cherry's debut game
Olympiacos bested AEK at the OAKA 76-67, for the 25th day of the Basket League. Will Cherry debuted with the 'reds' jersey in said game.


The 'reds' controlled the tempo and got to build a +7 lead at 5' (5-12) with good defensive game and offensive plurality. Relying on the same recipe, David Blatt's players maintained a steady lead up to 8' (11-19), but then, with good perimeter percentages, AEK closed in at one (20-21) at the end of the first quarter. The hosts led for the first time at 11' (22-21), but Olympiacos reacted immediately, regained control (24-30) and was leading by 9 at 19' (30-39). AEK had answers from the 6.75m. arc and with two back to back threes once again closed in (36-39, at 20').
The hosts got to lead again at the beginning of the 3rd quarter (40-39), however, Olympiacos (who up to 22' had made 0 for 6 threes) found target with Sasha Vezenkov and Kostas Papanikolaou and upturned the situation (40-47 at 24'). AEK took advantage of defensive mishaps with our team, passed the ball inside the post and made a one point game (48-49 at 27'). David Blatt's players nevertheless, once again had an immediate reaction. They put pressure in the defense, Papanikolaou and Williams-Goss made their attempted threes and created a 9 point span (48-57 at 29'). Taking advantage of his superiority with rebounding, Nikola Milutinov had a field party in the post, our team got to lead by 15 (51-66 at 34'). AEK tried to chirp away at the difference attempting threes (57-66 at 25'), but Olympiacos maintained control to the end and won the game.
* Giorgos Printezis did not play due to lower back pain.
The quarters: 20-21, 36-39, 50-57, 67-76.
ΑΕΚ (Banchi): Xanthopoulos 3 (1), Sakota 8 (2), Hunter 10, Griffin 2, Sant-Roos 8 (2), Μoraitis, Larentzakis 16 (3), Giannopoulos 9 (3), Τsalbouris, James 11
ΟLYMPIACOS (Blatt): Vezenkov 13 (1 3p., 6 reb.), Μilutinov 14 (18 reb.), Papanikolaou 1 (2 3p., 5 reb.), Μantzaris 5, LeDay 13, Bogris, Williams-Goss 12 (1 3p., 5 as.), Cherry 8
"Instead of lowering their heads, they lifted the team"
The Olympiacos' coach, David Blatt, stated: "It was a good and competitive game. I feel we played well. Both teams are missing players and it obviously has an impact on both sides. However, both teams were competitive and tried to win. I've been thinking about these past few weeks… We have been playing very good basketball and this proves the character of the players that are here, not of those that left. Of course, we also have injured players that want to but are unable to play".
About the 'reds' new signing, he said: "I have only good things to say about Cherry. He's been here for only four days and has fit with the team so well. He has helped us raise our level. That's not a surprise to me. He has played for the Cavaliers. I know about his quality. It's nice coaching him. He has character and a positive personality that allows him to fit in with the team".
Asked about Janis Strelnieks and Giorgos Printezis injuries status, he replied: "Unfortunately, Janis has not been able to practice since the day he got injured playing for the National team of his country that is for six weeks now. It has been a serious muscle injury that hasn't allowed him to return. He will be returning eventually, but at some point later in the season. That's why we have brought in Cherry, who will be replacing him. As for Printezis, he got injured during the game against PAOK. He experienced muscle spasms. He had been trying to practice every day this past week but he would stop because he couldn't make it. He now have enough days ahead of us without an official game and I believe he will be coming back".
About how he assesses the team after the playoffs, he said: "I'm seeing a reaction. It's not a secret that the period that proceeded was not easy. It's not an easy time now either. But the players, instead of lowering their heads, they stayed together and determined to lift the team. I really enjoy coaching these players. I wish Spanoulis and Strelnieks were with us. I wanted to bring Cherry in earlier on, because he would have helped us and it was obvious today. I really enjoy practices with them".
When asked to comment on the officiating, he said: "Today the refs were of high level. I would ask you to forgive me, but I'm going to stop talking about the game against Panathinaikos. I know that whenever I do it it's a good day for the reporters, because you have material to write about. However, when I do it, I know where all this starts, but not where it ends. There are some very good refs in Greece, however, the way they are appointed and the appointing committee should be able to transparently handle the situations and be independent from the Federation. That's the way it's done with most Leagues. The refs should also be able to handle situations and be the best they can".